I like this pipe. It's a nondescript Italian-made "basket" pipe, which are often factory seconds. I picked it up at Ted's, and I overpaid shamefully for it. Didn't know any better. But I hadn't smoked a pipe in many years, and wanted to get started again. It's got a couple of fills and a minor crack right at the end of the stummel that doesn't affect the smoking at all. I just liked the look of it; I still do. I like the lines, the feel, and the finish. It's a nice pipe.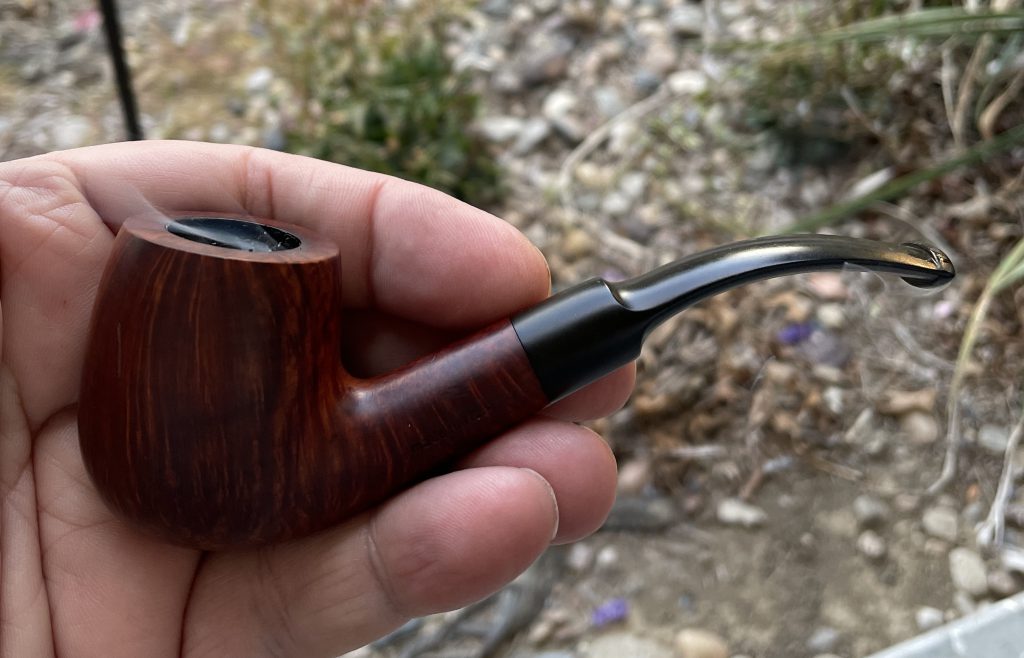 That said, there is one issue that just irks me. This thing seems to think it's a hookah. By the time I'm a quarter of the way through a bowl of tobacco, it's gurgling and spitting water through the stem. It's much worse, of course, with aromatic tobaccos since those tend to be quite a bit more moist than, say, an English blend or something not wetted down with flavorings and propylene glycol. Problem is, I like some of those aromatics. Let's face it; Lane 1-Q won't put hair on your chest, but sometimes a guy just wants a nice mild smoke.
I've found that I can minimize the issue by smoking slower… much slower. I took a look at how the pipe is drilled, and now I know the why of it. The draft hole is drilled way off. It's OK at the chamber end, but it's badly off center where it meets the mortise. I don't even know how you could drill a hole that far off. As a result, you can't even shove a pipe cleaner down to the bowl; it gets to the end of the stem and hits wood. There's a good 1/8" gap between the end of the tenon and the bottom of the mortise; that's probably the only way the thing can be smoked at all.
I don't know if opening up the draft hole a bit to smooth out the airflow enough to stop some of the condensation from forming or not. I'd hate to dedicate this pipe to smoking only non aromatic blends; I like it too much for taking walks when I prefer something lighter. I'll try smoothing things out as much as I can and see where that leads.
It's disappointing; I have two bent pipes that I love, but both of them gurgle like mad. The Peterson Atlantic also has a poorly drilled draft hole, a lesson to me to more thoroughly inspect pipes before buying them.
UPDATE as of 10/29/22: I tried a bowl of Peterson Early Morning Pipe this morning. I loaded up about 2/3 of a bowl and paid attention to taking it easy. I smoked it slowly, and had really no issues with too much moisture. At one point I did get a hint of a little burble, but at that point I just backed off a bit. I let the pipe rest for a minute, tamped, and it went away. So maybe the answer is to limit this pipe to non aromatics. It just seems like the more moist tobaccos — those with a lot of propylene glycol (PG) or something added to keep the flavorings from drying out, I suspect — cause problems. There's enough moisture in the smoke that the turbulent air flow in the stummel and stem of the pipe causes it to condense out and collect in the gap. It's not ideal, but I doubt the any minor surgery I do to this pipe would improve it significantly.
It's not the end of the world; I still like the pipe, it just requires some care and isn't a "smoke anything, anywhere, any time" pipe like my Savinelli or a corncob.